STUART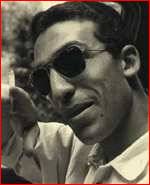 Along with Mao he share the historical role of night-talking friend. I started to drink and smoke with him and i'll never forgive him for it. More a bulldozer then a man.

UPDATE: Stuart was a fotographer, part time the clerk of a taback store, full time a tabagist. Then he had the whim of courses: video technician, film making, cinema. Latest news about him lead to Parma, where he attend a course i di not even understand the meaning. Everywhere he shall be, he surely have a cigarette in his mouth.
MARV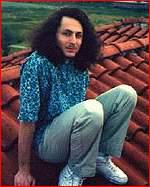 What the hell shall i say about him? He's able to be useless as far as indispensable. He walks in a parallel dimension. He lives on a oblique plain from our reality. At times his dimension and our collides, but he always see things from a different angle. At times unbelievably clearer, at times absolutely incomprehensible.
Oblique, that is.

UPDATE: He was getting a PHD in filosophy, then renounced after finishing exams. Worked as a tuesday vampire: every tuesday at 6AM he drove blood packs from outposts to ER. Latest news tell he's working as Sommelier in a restaurant.
LAST TIME SIGHT: may 2002, in the green outside a library, faking to be ten years younger to charm some young girls. We planned about an evening night "like old times" we will never do.
ALEX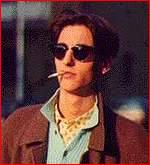 You know cats? Well, Ale is a cat. Funny, egoist, smart and always on the run... Never try to beat him!

UPDATE: We lost each other for some years, then we met again on a tennis field ("with that ACE i will seal the match...") where we had again reason to laugh together. And then, some gossip: he started a relation with Sabrina, my first unforgiven love! Well, folks, you two make a really good pair :)))